Nutrition Software for Fitness Professionals
A Dietitian's Bag of Tricks
Don't spend hours making menus, diets and recipes by hand. 
Serving the Nutrition Industry since 1982
Let the Diet Analysis Module's built-in features help free up your time.
An easy to use Nutrition Analysis Software
Also great for Dietitians, Hospitals, meals on wheels, non-profit programs and more.
Read more
Nutrition Software for Fitness Professionals
Clients in the fitness industry care deeply about wellness. It's not just about fitness and nutrition, but overall physical health and appearance. Clients want food to taste good and accomplish their goals, which can be time-consuming for personal trainers who need to create a meal plan. The expectation of meal planning from clients makes having great nutrition software for personal trainers a must for any busy fitness professional.

Most clients don't have an understanding—or even an interest—in how foods are processed by the body. They may think they know what is healthy, but few genuinely understand how complex nutrition and dieting are. Nutritionist Pro is the meal plan software for personal trainers who want to help educate their clients on eating habits to reach their goals faster.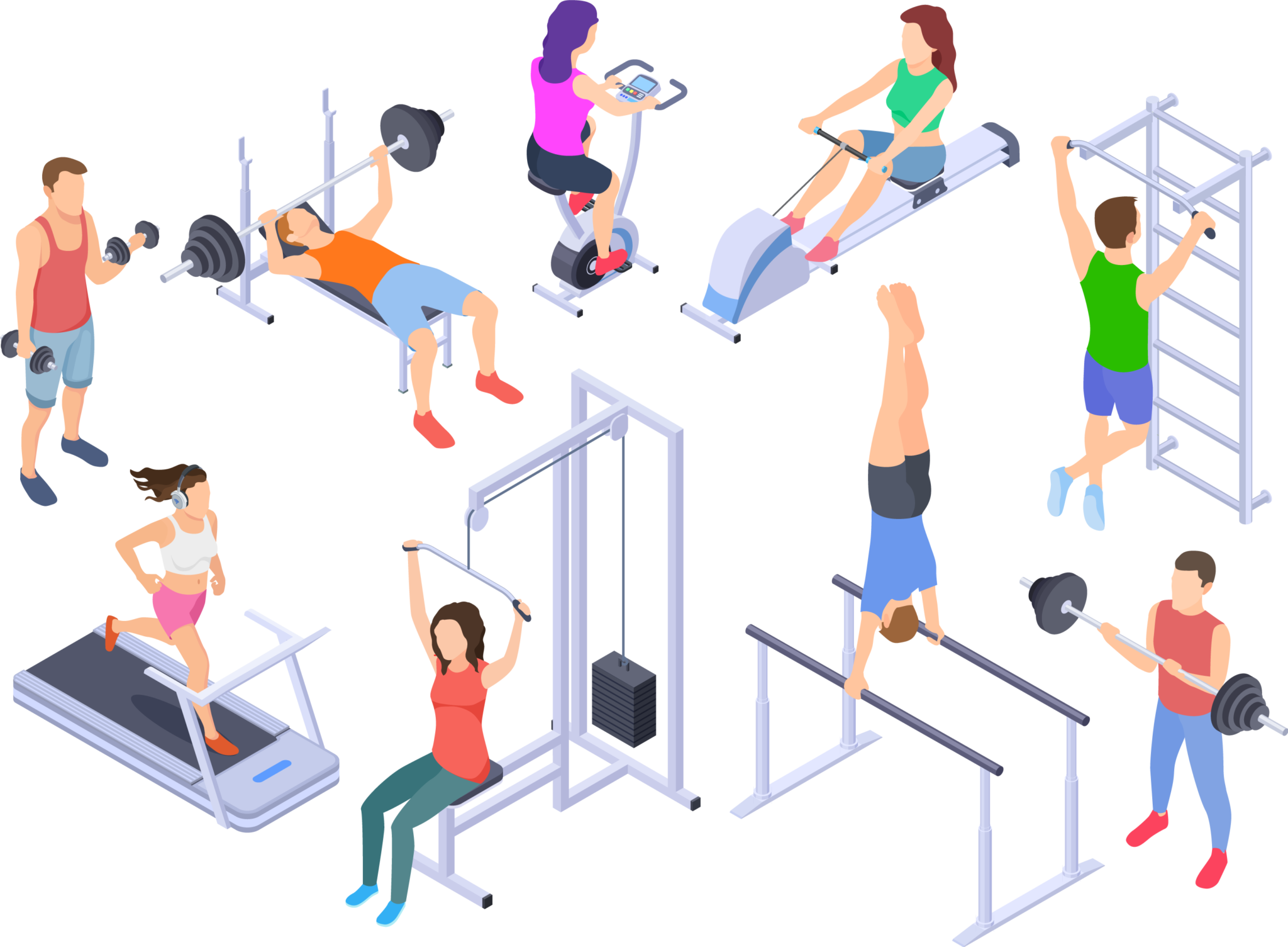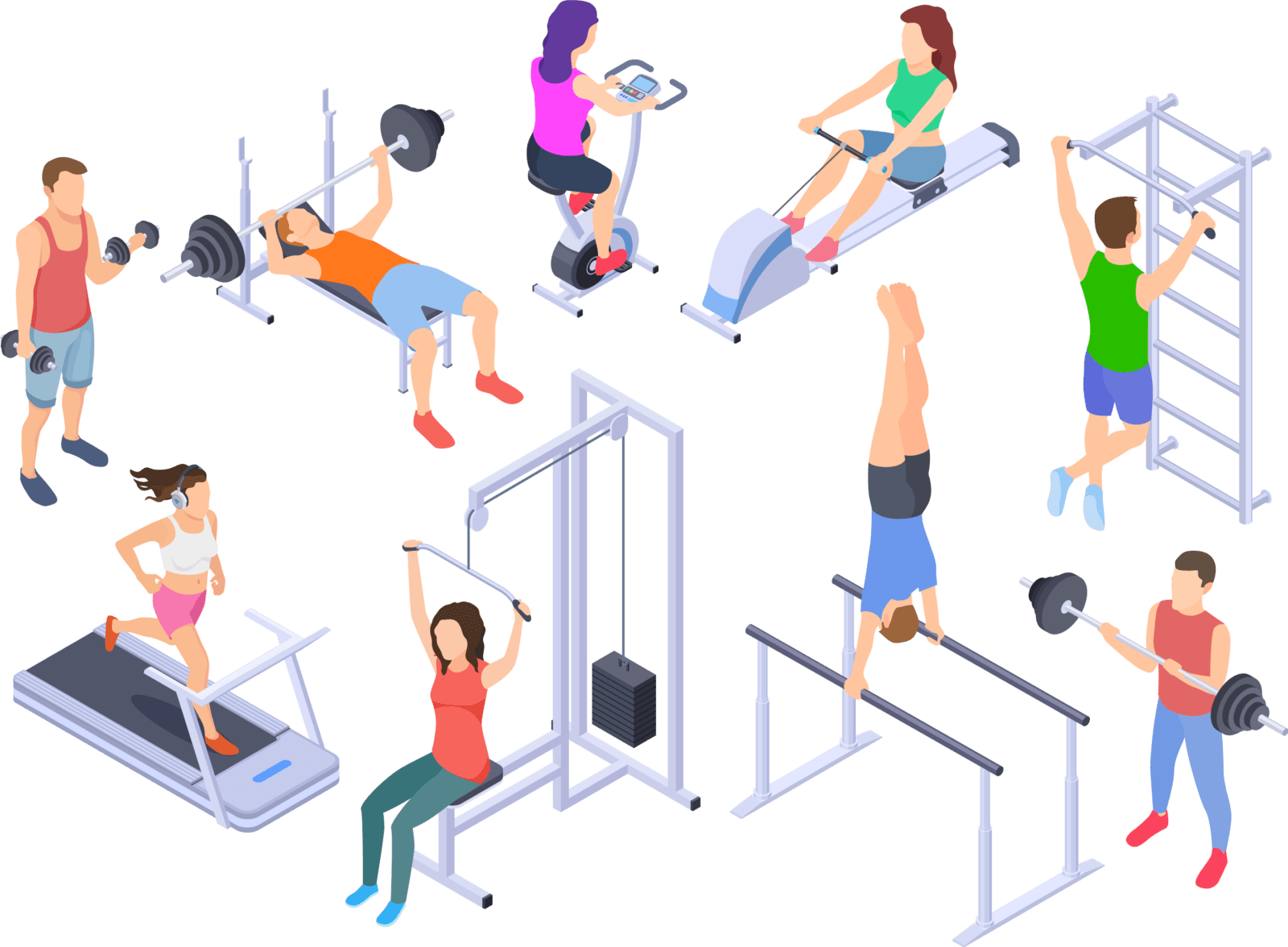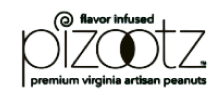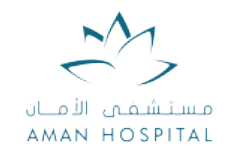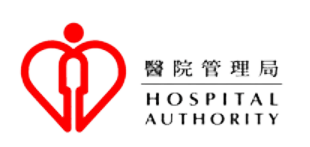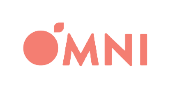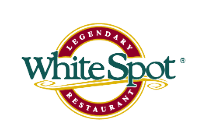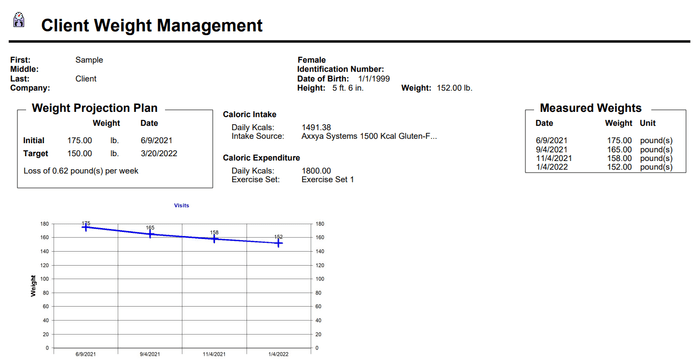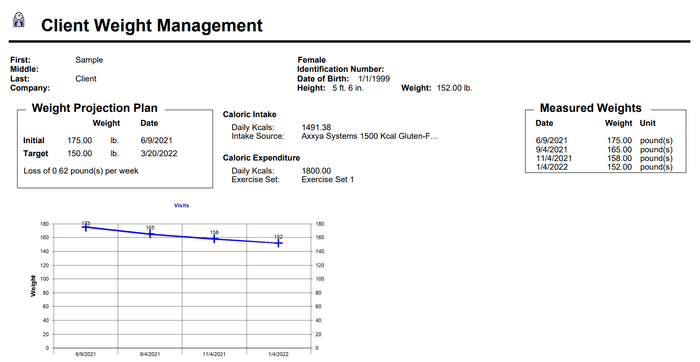 Set a patient's Nutrient Goals
–Track nutrient intake and exercise output for your patient.
Monitor Nutrient Intake
Monitor nutrient intake using the latest Dietary Reference Goals for each patient.  Compare goals to keep patients on track.

Set Exercise Goals
Pick from a list of exercises and see calorie expenditure for your patient.

Calculate Calorie Needs
Calculate Calories using built in formulas and also track weight over time for your patient. 
Read more
See How Your Clients Are Eating
Nutritionist Pro includes nutrition information, macronutrient breakdowns, and portion control options. With a Food Frequency Questionnaire, track your client's eating to isolate what parts of their diet need to change. With every questionnaire they complete stored in one easy-to-access place, you can compare which diets work for them based on their nutritional data.
Diet Recall
Personal trainers equipped with 24-hour diet recall can use nutritional analysis to target problem areas in their client's diets. Macronutrients include carbohydrates, fats, proteins, and more. Depending on your client's goals, they may need to consume more or less of specific meals. Tracking macros help personal trainers understand how many calories are consumed and if any vitamin or mineral deficiencies need to be addressed.
Serve Diverse Clientele
Different cultures are full of a diverse range of food ingredients and recipes. Every meal plan software for personal trainers should include an extensive list of foods from around the world. The Raw Nutrient Database built for Nutritionist Pro™ has all of these features and includes a comprehensive search function that makes finding specific items fast and straightforward.
Track a patient's Diet & Food Intake
–See how your patient is eating via a Diet record or Food Frequency Questionnaire.
Extensive foods from around the world
A large variety of food data from around the world makes it easy to track a patient's intake.

24 HR or 3-Day Diet Recall
Create 24 hour or 3 day recalls to see how your patient is eating. Use built in reports for nutrition education.

Food Frequency Questionnaire
To see how your patient is eating over a certain time period use our built in FFQ features.
Read more
Client Weight Management Menu
The weight management menu gives you measurable nutrition information you can track month to month. Entering your client's workout routine will give you an idea of how much protein they should consume. This information allows you to create perfectly balanced menus and exercise plans for each client. Nutritionist Pro is a great nutrition software for coaches and personal trainers who need to track multiple athletes' dietary info.
Monitor Nutrient Intake
Nutrition data is tracked for each client in an easily accessible menu that includes the Weight Projection Plan. The weight management menu gives you measurable nutrition information you can track month to month.
With this feature, you can enter your client's workout routines to track how much they need to eat based on their goals. See their daily caloric intake and what date they should hit their goal weight.
Set Exercise Goals
Input your client's workouts to track how much they need to eat based on their goals. Many clients struggle to reduce their waistline and often feel that more progress needs to be made. Motivate them by using nutrition software for personal trainers that shows how far they've come with weight tracking.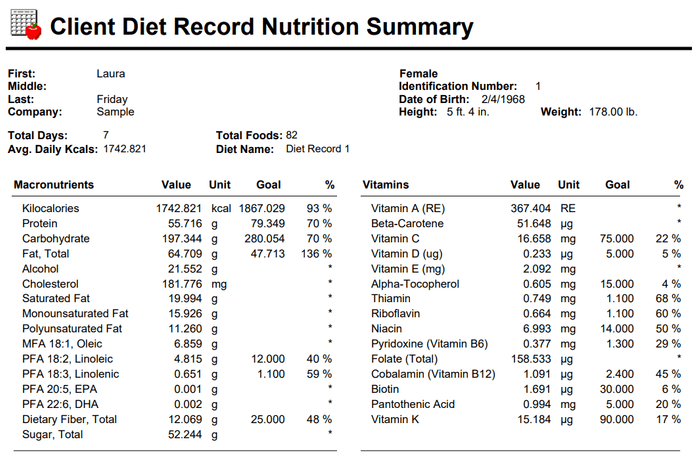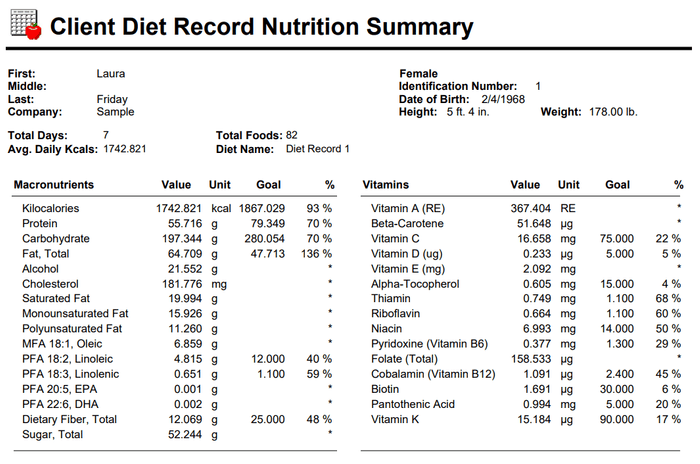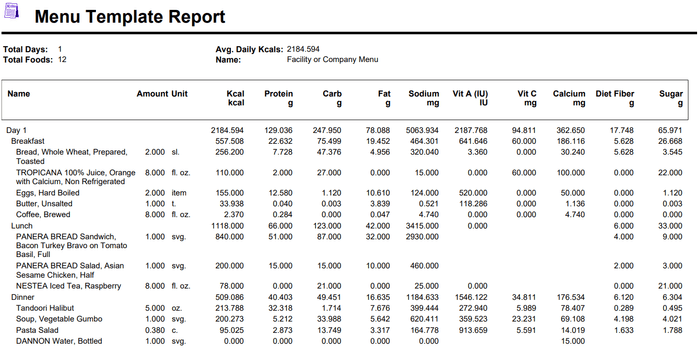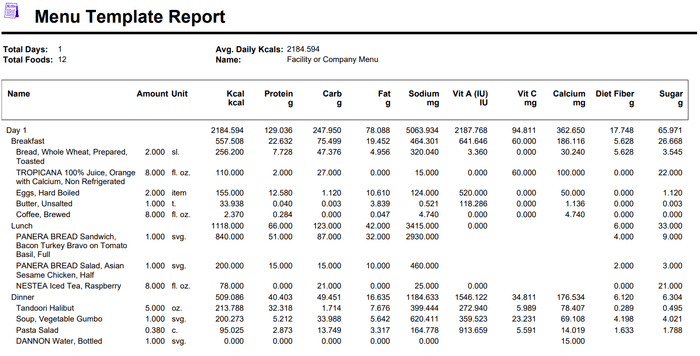 Meal Planning for Patients
–Use built in meal plans for various calories and health conditions.
Menu Creation Features
Use our built in menus and quickly create a meal plan for your patient.  Edit menu templates once and reuse it as needed to save time!

Comprehensive Menus
Preset menus for various calorie levels and categories like Diabetic, Low FODMAP. Vegetarian and more.

Nutrient Data for Menus
Use the latest DRI nutrient goals and see how your menu compares. Use reports for nutrition education
Read more
Meal Planning for Athletes
Meal planning takes time and effort, especially when you're managing several clients at once. Sports organizations that need nutrition software for coaches to keep their athletes in peak shape may have several athletes to meal plan for. Coaches who need to track their athletes' eating and make meal plans based on their nutrient goals can do all of that with Nutritionist Pro.
Athletes depend heavily on proper nutrition. A lack of nutrients leads to poor performance, fatigue, and decreased stamina. Increase their chances of success by using meal planning software for fitness professionals. You have the coaching covered; let us give you the tools to plan your team's meals successfully.
Create Custom Menus
Customize menus or use built-in templates for different caloric levels and specialized diets like low FODMAP, vegetarian, and more. Select from a diverse variety of ingredients to add directly to your custom menus. Save time by editing menu templates to reuse as needed! Cater to your client's lifestyles by considering their tastes and creating unique dishes for their meal plan that will encourage them to stick with their health journey.
Many report options make nutrition education easier?
–Access various reports in the Diet Analysis Module.
Large Report Variety
Select from over 55+ report options to help analyze diets, recipes, goal, menus and more.

Popular reports
My Plate, Dietary Guidelines, Nutrition summary, list of foods in a menu and more

Spanish Reports & Extract Options
We offer some reports in Spanish. Reports may also be extrcted in pdf, csv, rtf, etc.
Read more
Improve Dietary Education
Access over 55+ report options in the Diet Analysis Module. These reports range from introductory information to more complex nutritional breakdowns. Educate your clients about how their diet affects their bodies, so they understand the importance of sticking to their fitness goals. Save time by printing or emailing client reports instead of writing your recommendations by hand.
Use our nutritional software for fitness professionals to cut down on tasks that used to soak up your time, allowing you to focus on your business. With easy-to-understand reports and diagrams, increase client retention by helping them understand why sticking to their fitness routine is essential.
Were you looking for bilingual software? Some of our reports are also available in Spanish! Other features include our easy-to-use interface and the built-in calorie calculator. This complex nutritional data is displayed clearly and concisely to make your clients confident about your recommended changes.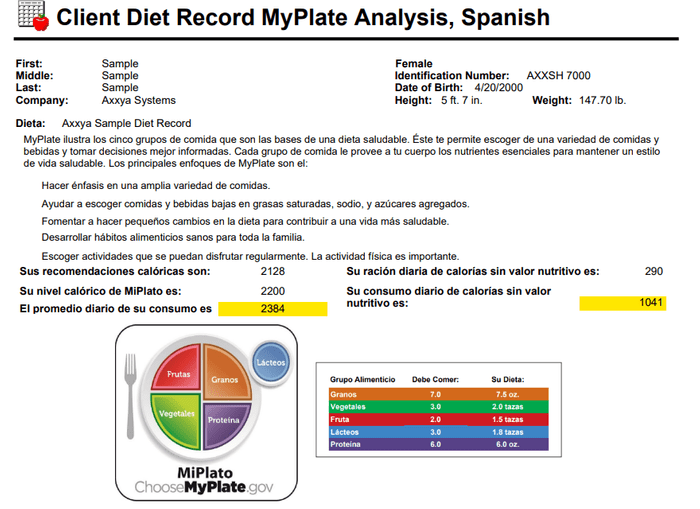 Set different exercise goals
–Select from a long list of common exercises for your client.
Exercise calorie expenditure
See how many calories your client is burning from a certain activity

Add your own custom activity
Add your own activity or select from a list of ours.

Weight projections
See how and when your client will meet their nutrition and fitness goals.
Read more
Customize Exercise Goals
Select from our database of everyday exercise routines, or add your own. Each set will show daily calorie expenditure and track metabolic rates. Customize your workout routines and then share them with clients. There are countless ways to keep your client on track when you use our nutrition software for personal trainers.

Nutritionist Pro tracks calories burned daily and can display this value when you access the client exercise set page. As clients progress through their fitness journey, easily set new goals and add custom activities. Weight projections will show how and when your clients will meet their goals.
We offer a free trial for Nutritionist Pro for anyone interested in our powerful nutrition software for personal trainers. Feel free to contact us to see a live demo today.